French skipper Guirec Soudée and his pet red hen, Monique are now through the Northwest Passage as the intrepid pair continue their circumnavigation.
7 September
After 32 days, French skipper Guirec Soudée and his pet red hen, Monique, have sailed through the Northwest Passage.
The pair are now heading to Kodiak, Alaska to rest after their 3,400 miles journey from Greenland.
"The Northwest Passage is behind us!" writes Soudée.
"I seem to be the youngest sailor to have crossed alone and one thing is sure: Momo is the ONLY hen of the world!"
Soudée, 24, met Monique after stopping in the Canary Islands while starting his circumnavigation in his 1985 Scorpio Yvinec 9.
The Breton native is choosing an untraditional route for his voyage, and has just spent a year in Greenland.
He and Monique spent the winter in total isolation.
Watch a video of Monique and Soudée's adventure in Greenland below
Previously, the pair were in St Barths, Caribbean, where the skipper worked to fund his sailing dream.
Writing on his Facebook page, Soudée said setting sail from Saqqaq in western Greenland left him anxious and with a heavy heart.
"I still can't believe it: after more than a year spent in Greenland, I left this country that taught me so much," wrote the French skipper, who vowed to return to the country.
The voyage through the Northwest Passage was far from easy, with icebergs and violent currents.
Soudée also had to cope with an autopilot which didn't work "since we had sailed too close to the magnetic pole", resulting in little sleep.
Both he and Monique found the thud of ice banging on the hull of  Yvinec unnerving.
But, the voyage through the icy seas did have some high points – especially the wildlife which included seals, bears, narwhals and whales.
"Happy to find friends Monique strutted proudly before them on the deck!" noted Soudée.
During their passage, the pair stopped in a few Inuit villages, where Monique and her eggs were a big attraction (she generally lays one a day).
Soudée said he was proud to have completed his journey through the Northwest Passage and is looking forward to leaving the Bering Sea for Kodiak, Alaska.
"Today more than ever, I am convinced that with determination, perseverance and faith it is possible to reach your goals," he writes.
"Most of the time, our only barriers are those that one we make ourselves. There is always a good excuse not to go ahead!"
The voyage of Soudée and Monique has attracted worldwide media coverage, and has now been turned into a children's book, Transatlantic Monique.
Further books are planned. All the proceeds go towards funding Soudée and Monique's ongoing voyage.
3 June
While a cat or a dog might be a fairly regular travelling companion for many long-term sailors, a chicken certainly isn't!
Frenchman Guirec Soudée, 24, teamed up with Monique in the Canary Islands after setting out on his adventures in his 1985 Scorpio Yvinec 9.
It was love at first sight and the pair have been inseparable since.
Monique, who generally lays one egg a day for the Breton native, has settled well to life at sea.
The pair have already crossed the Atlantic. Have spent time in the Caribbean, the skipper and his chicken have now sailed to Greenland where they are stopping before continuing their circumnavigation via the Northwest Passage.
Watch the adventures of this unusual pair courtesy of the website Mr Mondialisation.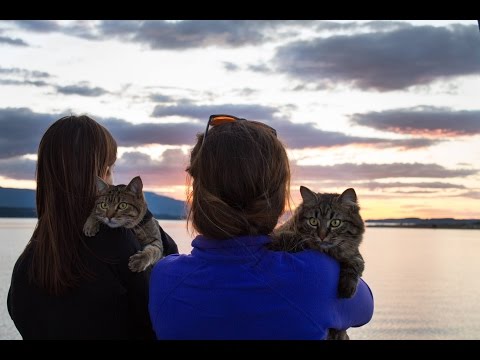 Feline brothers, Bolt and Keel were found abandoned behind a rubbish bin. Now they have a life of adventure which…
A lone French sailor saved himself and his cat when his 30-foot yacht lost its rudder and rigging in rough…
When Robert Forrester returned from picking up engine parts in Miami he also came back with a surprise for his…