The Duchess of Cambridge is today visiting the America's Cup base in Portsmouth to find out about projects that inspire young people to take up sailing.
The Duchess of Cambridge is the Royal Patron of the 1851 Trust, which is supported by Land Rover BAR.
It runs sailing and education programmes to enable, engage and encourage young people to broaden their horizons and take up new opportunities.
Today, the Duchess will launch two of the trust's flagship sailing projects. She will then officially open the new Tech Deck Education Centre at the Land Rover BAR base.
The centre aims to showcase the sport's innovation, technology and sustainability for schools and community groups. Visitors will also be able to experience the design principles, construction and on-going operation of the team's America's Cup boats first-hand.
The Duchess will also meet with students from a local school, who are taking part in a digital workshop which uses the America's Cup challenge to promote science technology, engineering and maths.
The 1851 Trust's sailing projects are being run in partnerships with UKSA and the Andrew Simpson Sailing Foundation.
The trust will be working with UKSA to deliver a two-year programme of sailing opportunities for young people across the Solent area.
With funding from Sport England, the charities aim to inspire a new generation of 14-16 year olds into sailing and water sports, giving them the chance to experience new activities and build character through time spent on the water.
Meanwhile free sailing taster sessions for 1,000 young people in the Portsmouth area will be offered by the Andrew Simpson Foundation in partnership with the 1851 Trust.
The Portsmouth Sailing Project will once again be hosted from Portsmouth Sailing Club from 25 July to 26 August. This activity will be free of charge for all the young people involved.
Speaking on behalf of the 1851 Trust, chief executive officer, Jo Stocks said: "This is a great opportunity for more young people from Portsmouth and the surrounding areas to get out on the water, learn about sailing and most importantly have fun in a safe and friendly environment."
He continued: "One of the 1851 Trust's key aims is to use the inspiration of our patron, Sir Ben Ainslie and the team to inspire and motivate a new generation into sailing by breaking down barriers to participation. The Portsmouth Sailing Project is the prefect platform for us to engage with young people who might not have ever considered getting into sailing, or had the opportunity to do so."
An extended programme will also be offered to around 50 children that want to continue sailing but aren't in a position to fund themselves.
The 1851 Trust was recently appointed one of the official charities of the Little Britain Challenge Cup 2016. It takes place in Cowes, Isle of Wight, from 9-10 September.
The royal couple will make an appearance in Portsmouth on 26 July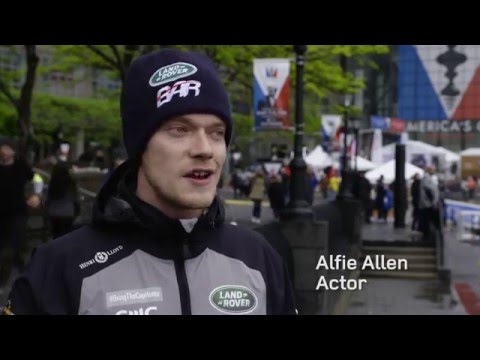 The Land Rover BAR team were joined by a host of celebrities in New York, including the 'Game of Thrones'…
Sir Ben Ainslie's bid to bring the America's Cup back to Britain is moving forward with the launch of Land…