The luxurious multi million pound houseboat - II Nauti Buoys - is moored on the River Thames at Wandsworth and boasts spacious living over two decks.
Designed by an award-winning architect for his two sons, II Nauti Buoys on the River Thames has now been put up for sale.
This floating 2476 sq ft. penthouse is permanently moored at the riverside quarter on the River Thames, overlooking the Hurlingham Club and Wandsworth Bridge.
It is on the market with Knight Frank for £2,150,000.
Knight Frank partner Matthew Smith said: "This is an exceptional floating home, in an idyllic setting on the river. It has already attracted serious interest and with its high end specification and extremely generous living and sleeping accommodation is a very desirable place to live."
"The outside space and views are without doubt some of the best available on the river," he stated.
Large windows and a vast upper sun deck make the houseboat extremely spacious.
II Nauti Buoys has a main reception room with a wood burning stove, concealed television and a large roof light. Sliding glass doors lead out onto a hardwood deck terrace.
The entrance hall has a walk-in coat/media cupboard and also a shower/cloakroom.
Concealed solid sliding partition doors separate the kitchen with its custom built units, large full height storage cupboards together with high spec appliances.
The dining area at the west end of the kitchen has sliding folding glass doors which open onto the hardwood barbecue deck with dining area.
There is also a staircase leading up to the vast upper sun deck.
A separate staircase from the dining area leads to the guest bedroom suite
The main lower deck areas are accessed via a contemporary oak and chrome staircase leading to the master and second bedroom suites and utility room.
The TV area, which forms part of the lower deck area, converts into an occasional double bedroom by use of concealed sliding partition doors.
All floors on the lower deck are finished in oak apart from the en-suite bathrooms and utility room which are finished with marble tiles.
II Nauti Buoys has been designed to be energy efficient with a high degree of thermal insulation, double glazed windows, triple glazed roof lights, an 'air-source' heat pump providing both underfloor heating and hot water, with a solar panel providing additional heating for the large capacity hot water cylinder.
Lighting throughout is fitted with LED lamps.
The riverside quarter moorings are gated and are restricted to accommodate only 12 privately owned boats.
The nearby Clipper River Taxi provides easy access to the city, and there are additional facilities for the owner to moor their own speedboat or RIB for personal river transport.
The riverside quarter also boasts fully equipped gyms, swimming pool, sauna, steam and jacuzzi, restaurants and a convenience store.
For pet lovers,  Wandsworth Park is only 100 metres away.
II Nauti Buoys comes with mains water, sewage, electricity and telephone. Fibre optic broadband is also available.
From hardcore racers like pop legend Simon Le Bon to George Clooney's love of motor yachts, here is our pick…
Find out what Ellen MacArthur, Helena Lucas and Dee Caffari always have on them! YBW asked professional and amateur sailors…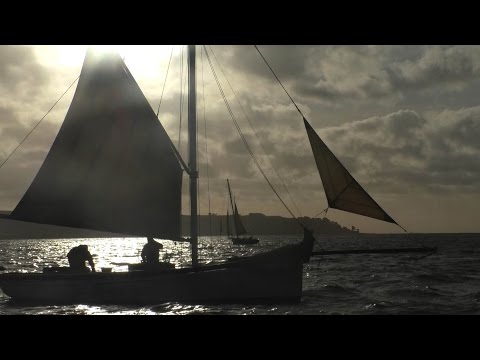 If you think cruising is strictly a summer pursuit then international cameraman and programme-maker, Dylan Winter is on a mission…